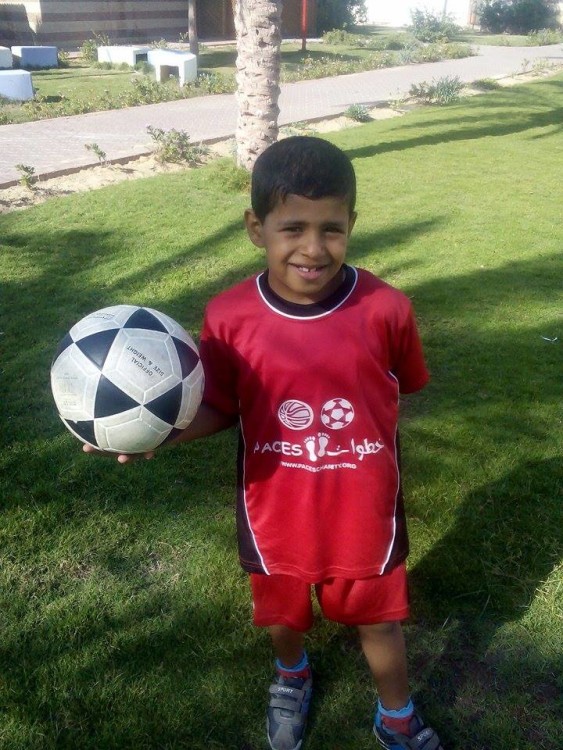 Ziad became an orphan when his entire family was killed when an indiscriminate Israeli bomb killed his entire family last year. The fear and shock of that trauma and its horrible consequences cannot be over-stated on a child.
Ziad was placed in an SOS village in Gaza where PACES has had an active and successful program for a few years. Though initially reluctant to participate, and always wanting to be alone, Ziad reluctantly joined the program.
It took many long weeks for Ziad to gradually open up, but after many baby steps, and through the support of his two new families, the SOS and PACES, Ziad's behaviour has changed and he now looks forward to playing football with his friends and brothers.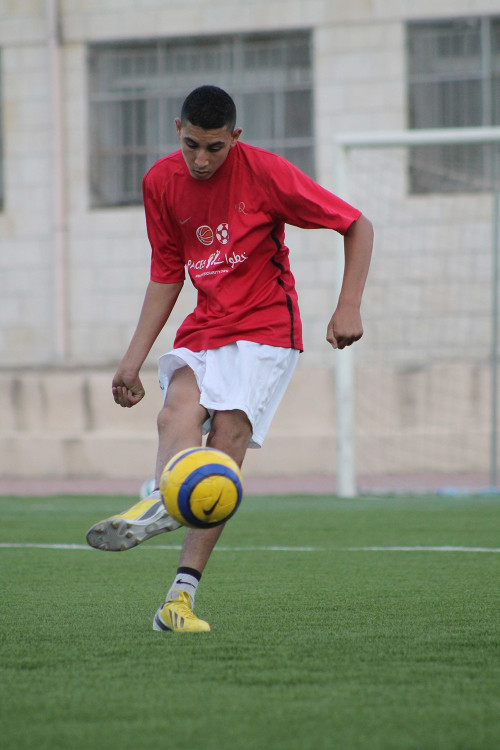 As part of the preparations for the West Asian Football Cup and the qualifying rounds for the U16 Asia Football Cup, the Palestinian Football Association called up 33 boys to take part in the preparation camp that was held at the Jericho International Stadium between the 22nd and the 27th of June 2015.
As with the U16 and U14 national girls teams in both Palestine and Jordan,PACES boys have been part of this process a large numbers. Thirteen boys from several clubs that are associated with PACES were selected, some having recently graduated from our programs while others are still enrolled in them. Furthermore, 4 of these boys participated in the 2014 Norway cup in which PACES achieved 3rd place, while two others took part of PACES team that participated at the Gothia cup in Sweden in 2012.
Year after year the PACES success story continues whether by supporting and nurturing young talents and motivating girls and boys to reach high levels of achievements in sports, or being involved in all aspects of their lives from health and hygiene, to environment and education, our impact on thousands of children and on hundreds of coaches remains un-rivaled .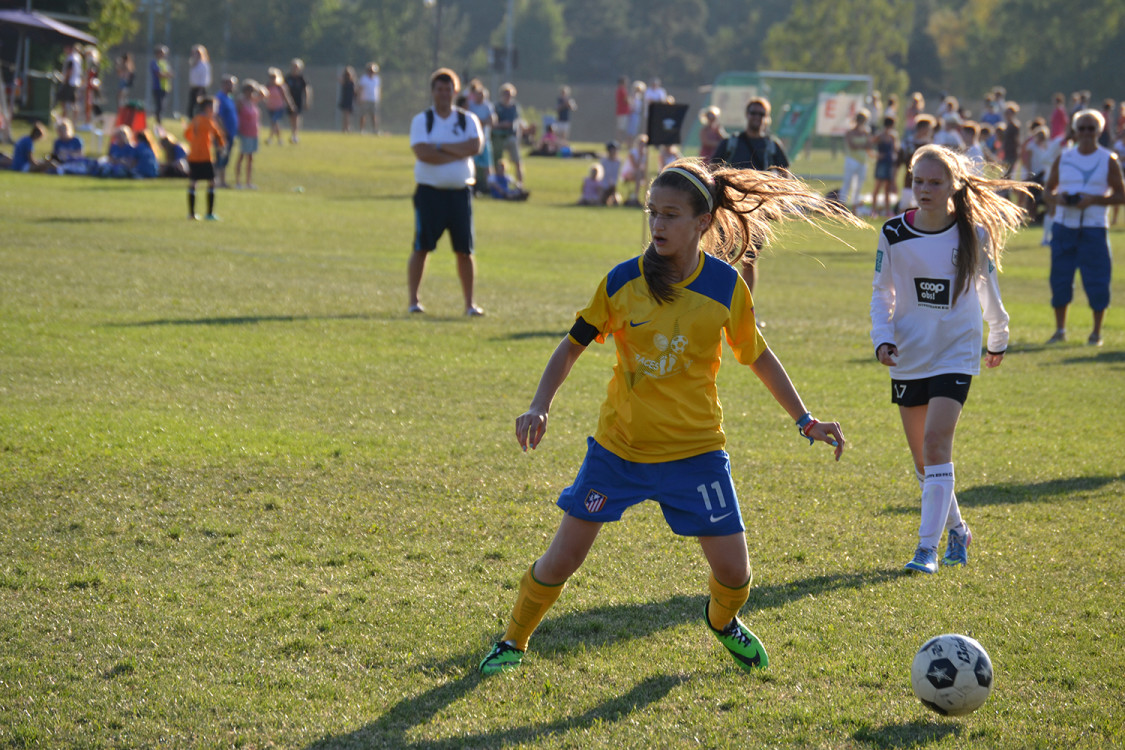 After the success of PACES girls with Palestine national team at the Arab U-17 Women's Cup, Jordan's U-14 girls team has just achieved an astonishing result at the AFC U-14 Girls' Regional Championship for the West Zone that was held in Manama – Bahrain. The Nashama girls of Jordan were crowned champions on Friday ahead of UAE as runners up and Palestine in 3rd place.
The 8 girls from PACES displayed excellent performance, while a ninth, also from PACES, Leen Btoush, was named MVP and best scorer of the tournament with 12 goals.
Another 11 girls from PACES were on the Palestinian team that came in third place with yet another remarkable achievement.
Year by year PACES's support to clubs in Palestine, Jordan and Lebanon is achieving its one of its many objectives: our children are reaching high levels of play while adhering to exemplary behavior and work-ethic.
Jordan will be hosting the U-17 women world cup in September 2016, as the hosting nation Jordan's Nashama have already qualified while Palestine is now in the process of playing is qualification games.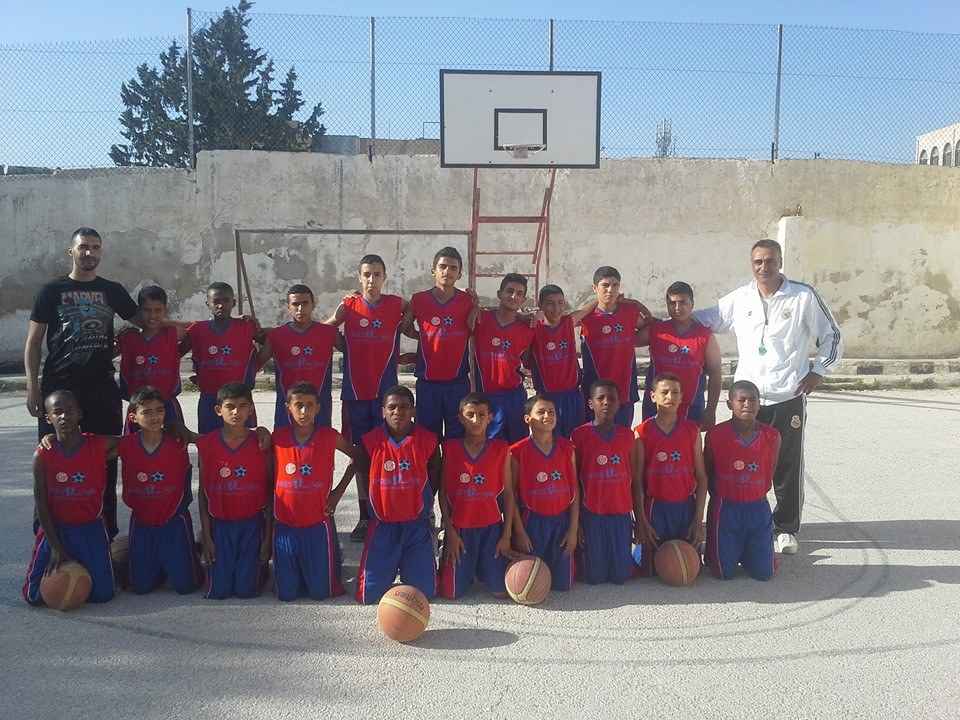 Ghazat Hashem's one of PACES teams in Jordan, started its adventure two years ago in the Jordanian Basketball League for the juniors U13 division. In their first year they didn't have any chance in competing with the other teams. While last year they managed to shine and qualify for the Elite Cup and got fourth place after a long marathon in which they played 20 matches, won 16 and lost 4 in the final minutes.
This year the young champions have been elevated to the Elite Cup after a brilliant performance and after beating all the teams they faced in the first round. One of the leading teams they overcame was the Orthodox Club and with high score difference. In the Cup they came back to beat significant clubs like Orthodox, Al-Riyadi and Applied Science University and lost only one game after being subjected to an obvious injustice according the testimony of the Referees Committee's Chairman.
Finally and for the first time in the club's history, the team stepped on the coronation platform. A surprise to everyone interested in the game after being used to seeing significant clubs on that platform like the Orthodox and Al-Riyadi. In the midst of all the wondering and speculations came out the club's president and stated that those young champions have been training under the partnership with PACES all year long in spite of the weak infrastructure in the camp and the lack of an appropriate arena.
PACES played a prominent role in guiding the club towards this age group as they have never participated in their entire history in such tournaments for young players, and they were never interested in basketball training for children. Through its sports program, PACES managed to develop those players and their progress was highly noticeable. The coaches' commitment was outstanding under all circumstances and the practices were attended by many of the team's fans due to the surprising performances in all the matches.
Another group of players who also play under the partnership with PACES is participating in the youth league and has qualified for the Cup. The league is still going and we wish them the best of luck.
This year the club also registered PACES girls in the junior league for the first time in its history.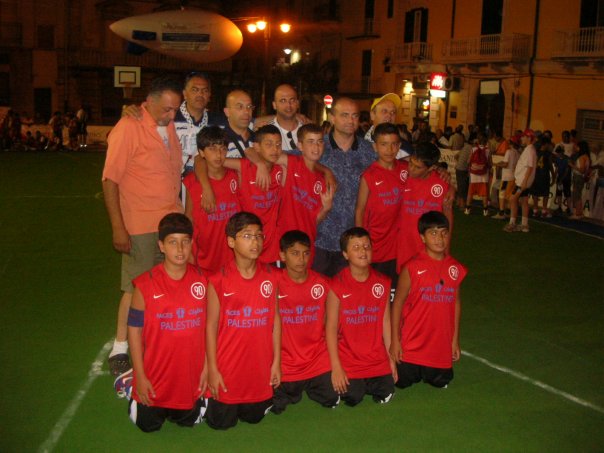 "PACES helped me kick-start my journey in Basketball, and I will forever be thankful to the team and coaches who got me to where I am today." Said Raymond Al Ghawali, an 18 year old young man from Bethlehem, Palestine.
In 2006 and when he was 10 years old, Raymond joined PACES' basketball program. "We were very excited to join since we knew it will help us acquire different skills", says Raymond with a big smile on his face, "That's exactly what happened thanks to the best coaches available from the West Bank area".
"PACES taught me more than just basketball", Raymond continues, "It has taught me commitment, hard work, time management between studying and playing sports, as well as teamwork skills".
Soon after joining PACES, Raymond was spotted by our coaches as one of the exceptional talents in the program and was accordingly selected to represent PACES for the annual youth mini-basketball tournament held in the province of Matera, Basilicata, Italy, in the city of Metaponto in June of 2007. The team, consisting of 10 players, attended two training camps ahead of the tournament, one in Bethlehem and the other in Jordan along side the Jordanian team who was also participating in the same tournament. "We received our full Nike gear that consisted of two jerseys, shoes, socks, and a bag. In fact, I still hold on to the jerseys till today".
"We felt very proud to have raised the Palestinian flag in front of everybody there including other teams from various nations that came from all the continents across the globe". Said Raymond. The team spent 10 unforgettable days in Italy: "We were only 11 years old at the time and to be able to represent our country, raise our flag, and show the world what Palestinians really are was an absolute honor and an invaluable experience. I would have never been able to get such an opportunity if it wasn't for PACES", Raymond added.
Raymond played basketball in high school where he led the school team as captain in his senior year, he also played club basketball with multiple clubs in Bethlehem. Additionally, he was also chosen to play for Bethlehem's select team in Palestine's Districts Competition.
Raymond is currently playing on the American University in Dubai's Men's basketball team in his freshman year. He was granted a 50% academic scholarship and is majoring in Mechanical Engineering.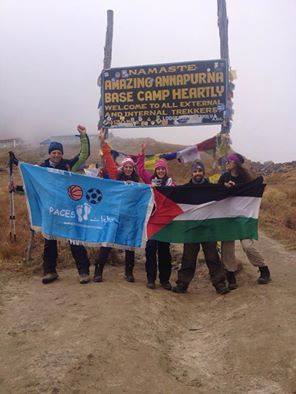 A team of 6 dedicated individuals had just completed a 9 day trek to the Annapurna Base Camp in Nepal to Support the PACES Gaza Appeal. Deema, Amr, Zeina, Tarek, Alaa and Leila climbed up to 4100m in the Himalayas.
A 9-day trek to the Annapurna Base Camp in Nepal was one of the most fulfilling and enriching achievements the team has experienced to date. Not only were they embarking on an extraordinary adventure, but they were doing it for PACES which made the experience much more meaningful; a cause that became the drive to continue during the challenging times. Their day to day, in summary was: sleep- eat-climb-repeat. A typical day would start at 5 a.m. to catch the mesmerizing sunrise. After packing and setting up their gear for a new day, they would fuel up on essential nutrients at breakfast – ranging from boiled eggs, porridge, pancakes to local items such as chapatti and Gurung bread. A carb-based meal was a must to provide the right energy needed for the long walks through blissful nature. Every day out there was taken as a mission to get from point A to B, where the journey was one where they were completely disconnected from the past and future camp; just focused on embracing the present. Along the route, they supported each other while enjoying the surroundings of valleys, snowy mountain peaks, cascading waterfalls and of course the rich fauna and flora. A typical day would have many deep pausing moments to absorb the nature around them and try to grasp the magnitude of their surroundings. The lunch stop was the main and big break where they would have a nutritious local dish called Dal Bhat (lentil, curry and rice dish) for proper replenishment, with a side of garlic soup (said to open up the arteries to get blood flowing in preparation for the high altitude). Time really flew by during their 7 to 8 hours of walking each day, especially when crossing paths with foreign and local trekkers that share like-minded spirits. They met individuals from all walks of life, each with a different drive towards a common goal of reaching the top. The mutual greeting of "Namaste" turned strangers into friends. When the physical challenges of each day ended they were rewarded with stunning sunsets that would keep their spirits high and excited for the next day to come. And of course having a well-deserved supper where they can really eat anything blindly and fully enjoy it! Although they were exhausted, before tucking into the sleeping bag they would sit out to absorb the breathtaking view of the moon shining its light over the valleys as they reflected on the day that passed. After 6 days of climbing up, they finally reached the Base Camp. Feelings of elation and accomplishment swept through the group as they saw the sign board welcoming trekkers to the finish line. The clouds covered the full splendor of the mountain peaks which they were only able to see at sunrise the following day and what a view it was! At any point they were surrounded by the 7 peaks of the Annapurna mountain range, it was an unforgettable sight that is now etched in their memories. The base camp was even more profound when seeing memorials laced with the colorful Buddhist prayer flags to commemorate courageous mountain climbers who attempted to summit the majestic peaks. The 3 days going back down were also quite shocking, as they couldn't believe that they had climbed up all that! They were all saddened to be getting further and further away from the peaks, but nature never fails and gave them another surprise on their last day. Natural hot springs ready to heal their aching muscles and tired bodies. While the whole experience had some challenges, it really brought about life lessons and reflections in each one of them. The experience made them realize they should always remember that it's the simple things in life that are the most extraordinary and that even a small contribution can make a difference in bettering the lives of others.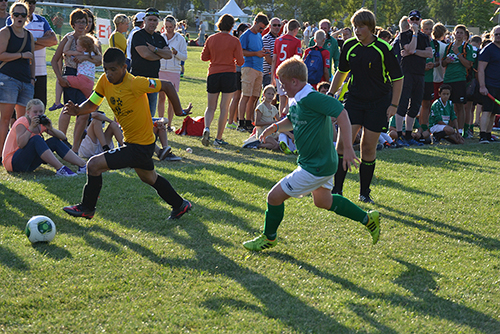 Hassan Ayoub is a 15-year-old boy, who enrolled in the PACES program in Ein Al
Hilwe refugee camp three years ago.
Hassan caught our attention very quickly with his outstanding technique, leadership
skill and his ability to control games. In 2012, he was one of the best players and was
chosen to represent PACES in The Gothia Cup in Sweden.
Hassan kept on improving and was asked to start training at his club, with a team
from a higher age group.
In our tryouts for the PACES team going to The Norway Cup this year, Hassan
proved again that he is indispensable and had to be among the 11 other boys chosen to
represent PACES at the Norway Cup 2014.
In Norway he continued to differentiate himself with a unique fighting spirit, great
skills and leadership ability and particularly with high moral inside and outside the
pitch. Hassan now has the opportunity to join the Palestinian National Youth Team
which is a proud moment for PACES. As per Hassan's words: " It's a dream coming
true and PACES made it happen".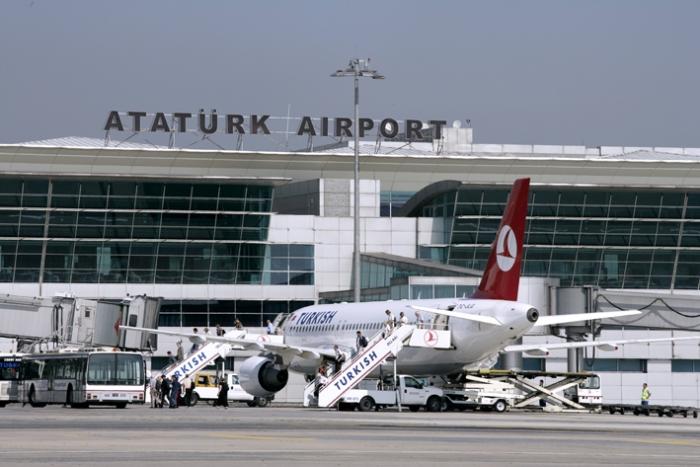 After our successful participation at the Norway Cup, and the wonderful support we received from the people in Oslo, it was time to bid farewell to our new friends and to head home.
PACES U14 team from Lebanon had a 5-hour transit time at Istanbul airport. After walking around the airport, we decided to rest and have a bite to eat.. All 12 children sat around a table enjoying different meals, and were chit chatting about their experiences in Norway when suddenly a moment of silence overcame the table; deafening silence that was due to the sadness of leaving Norway and all the special memories left behind in Oslo. Though the PACES children were looking forward to seeing their families going back home, the thought of the camps with their oppressive conditions after the wonderful few days in Oslo was not easy to accept.
We tried to comfort the kids and give them moral support. Other travellers started noticing the sadness and the tears of twelve 14-year-old children wearing sports training suits, with "Palestine" printed on the back and the Palestinian Hatta (Scarf) around their necks, It was amazing to see how those complete strangers reacted, you could see the sadness on their faces and empathy in their eyes for the PACES children. On the table next to us was another young team from a European country, with similar age group. This team of boys appeared to have participated in the same tournament as we just had, and were on their way home as well. Sitting around their coach these boys starting tearing up just by looking at our team. What happened next was a surprising as it was hear-warming. The European kids stood up, came to the table and hugged our boys in an attempt to comfort them. In return, as a gesture of appreciation, our kids removed their hattas and placed them around the necks of the children from the other team, who collectively accepted this gesture with open hearts and very big smiles.
What we then were stunned to see was that all eyes at the food court and its surrounding were fixated on these kids exchanging warm greetings, great intention and the exchange of a symbol that represents Palestine. It was a very touching moment for all of us.
It was time to board, upon standing up and taking our bags to go to our gate, the whole food court exploded in clapping hands and people standing up in respect to what I would like to call, one of the most emotional moments WE as a PACES team have experienced.
At PACES, we salute every person joined hands with us, covered us with applauds, and stood up in respect to Palestine, our kids and what they represent.