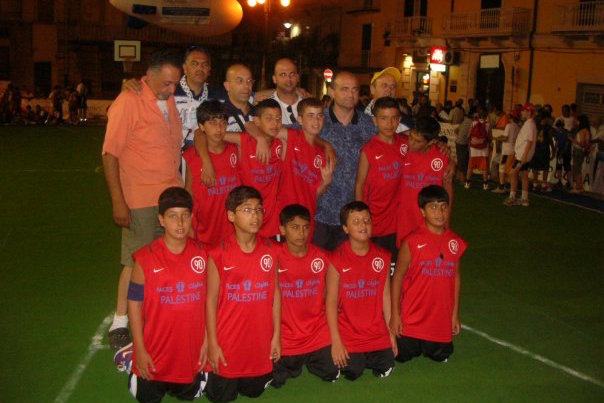 Blog
PACES & Italy Summer of 2007
"PACES helped me kick-start my journey in Basketball, and I will forever be thankful to the team and coaches who got me to where I am today." Said Raymond Al Ghawali, an 18 year old young man from Bethlehem, Palestine.
In 2006 and when he was 10 years old, Raymond joined PACES' basketball program. "We were very excited to join since we knew it will help us acquire different skills", says Raymond with a big smile on his face, "That's exactly what happened thanks to the best coaches available from the West Bank area".
"PACES taught me more than just basketball", Raymond continues, "It has taught me commitment, hard work, time management between studying and playing sports, as well as teamwork skills".
Soon after joining PACES, Raymond was spotted by our coaches as one of the exceptional talents in the program and was accordingly selected to represent PACES for the annual youth mini-basketball tournament held in the province of Matera, Basilicata, Italy, in the city of Metaponto in June of 2007. The team, consisting of 10 players, attended two training camps ahead of the tournament, one in Bethlehem and the other in Jordan along side the Jordanian team who was also participating in the same tournament. "We received our full Nike gear that consisted of two jerseys, shoes, socks, and a bag. In fact, I still hold on to the jerseys till today".
"We felt very proud to have raised the Palestinian flag in front of everybody there including other teams from various nations that came from all the continents across the globe". Said Raymond. The team spent 10 unforgettable days in Italy: "We were only 11 years old at the time and to be able to represent our country, raise our flag, and show the world what Palestinians really are was an absolute honor and an invaluable experience. I would have never been able to get such an opportunity if it wasn't for PACES", Raymond added.
Raymond played basketball in high school where he led the school team as captain in his senior year, he also played club basketball with multiple clubs in Bethlehem. Additionally, he was also chosen to play for Bethlehem's select team in Palestine's Districts Competition.
Raymond is currently playing on the American University in Dubai's Men's basketball team in his freshman year. He was granted a 50% academic scholarship and is majoring in Mechanical Engineering.